Looking to buy a Tiny House for sale in Kansas? Check out our listing – We aggregate the very best offers from dozens of Tiny Home Realtors all over Kansas State.
What is it like to stay in Kansas?
Kansas is a state situated in the Midwestern parts of the United States. Kansas' capital is Topeka and the largest city is Wichita. It is the 15th-largest state by total area and the 36th most populous. Kansas is surrounded by other states like Colorado in the west, Missouri in the east, Nebraska in the north, and Oklahoma in the south.
The state is well known for its vast plains. It has fertile farmland. The state's most-produced crop is wheat. It is nicknamed the sunflower and wheat state. It is not called the wheat state for nothing. Kansas produces wheat more than any other state in the United States. Sumner County in Kansas sometimes is called the Wheat Capital of the World.
Kansas was the first state to endorse the 15th Amendment, thereby giving Black men the right to vote. This state is Tiny home friendly. Although, it accepts more tiny houses on foundations than the tiny house on wheels. Kansas is one of the 15 best states for tiny homes.
The county government usually regulates the construction of tiny houses in Kansas. However, most of their regulations are common throughout the state. The set minimum tiny house on foundation size is 170 Square feet.
Tiny House For Sale In Kansas
#1. Ash Tiny House for sale in Kansas by Made Relative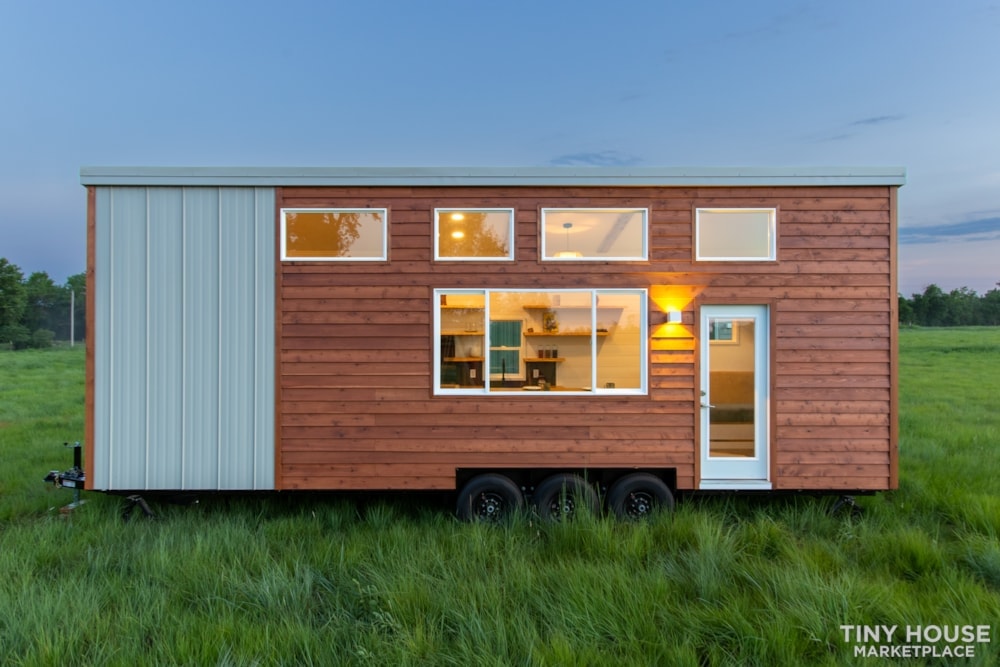 This is a tiny house on a trailer. Its features are a storage loft, sleeping loft, laundry, and stairs. It has two beds and one bathroom. The cost of this is $97,500. This tiny house is located in Towanda, Kansas.
---
Get Tiny House content delivered straight to you on Telegram.
---
The house is built on a 30′ × 8.5′ industry-leading PAD tiny house trailer with (3) 7K axles. Its square footage is 320sq. ft. Also, an under trailer plumbing and sewage ready to connect and a mini-split AC or heating ready. This house is fully packaged. It also has a secondary storage loft above with a room for twin-size mattresses.
The kitchen has a fitted black refrigerator with a freezer on top and a full-size black gas range with an oven and warming drawer plus a matching ventless hood fan with lighting. All this and more are found in this tiny house. More details here.
#2. NOAH Certified Tiny with Dual Lofts
It is located in Viola, Kansas, and sold for $119,900. It has 260 square feet of living space. It also has 2 bedrooms, 1 bathroom, and 2 lofts. This is a tiny house on wheels. It has the style of a Manhattan penthouse and the coziness of a mountain chalet.
It has upgraded Marvin windows with a beautiful black Craftsman-style front door, and a black standing seam metal roof. The loft is above the kitchen and this loft can take two mattresses. The loft flooring is wooden and it matches the ceiling.
The kitchen has lots of storage which includes the base and hanging cabinets. They are positioned well around the full-size black fridge, a 4-burner stove with an oven, a mounted microwave, and a dual basin sink. The middle of the home has space and can be used as a living room.
The laundry room and bathroom are below the master loft with a sliding barn door. The bathroom is a bit large with windows for air circulation and lighting. Isn't it beautiful? More details here.
#3. Brand New, Modern Tiny Homes- Customizable
The tiny homes are located in Wichita, Kansas. The price tag is $59,500. It has 252 Square feet of living area with one bathroom and one loft. It is built on a 24' trailer frame. It also has an optional washer or dryer, shiplap installed on the interior walls, hand railings, LED lighting, 12k Mini Split for heat at cooling, and more.
#4. Beautiful Custom 26' Tiny Home On Wheels.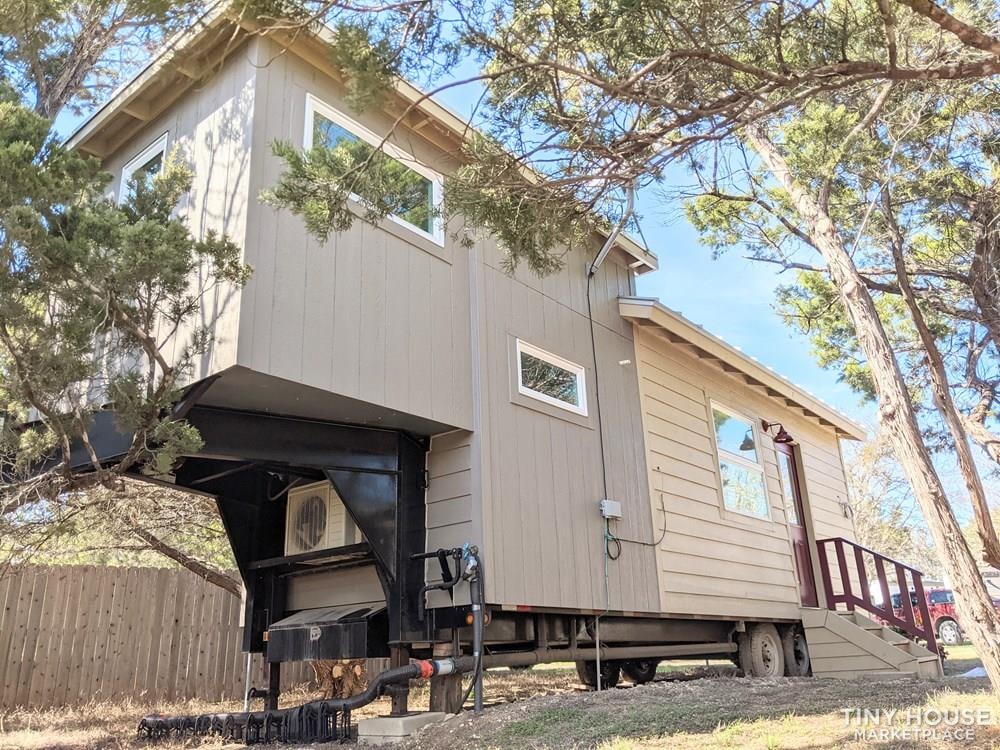 It has a modern design. Its location is in Wichita, Kansas. It takes up 280 Square feet of living area. The loft's size is good and has plenty of headroom space. The stairs have a good size too and have lots of storage space.
The bathroom is underneath the loft. The interior is beautiful and simple. The kitchen is also spacious and it comes with a gas stove, refrigerator, oven, and freezer. There is also a washer or dryer combo and a beautifully installed shower in the bathroom.
The wood used throughout the tiny home is grove cedar there is black corrugated metal making it look more model. The two large windows make the house illuminated and airy.
#5. Natural Modern 30FT Tiny House "CORAL" By Made Relative
This is a modern tiny house of good size. It has 320 sq ft (80 sq ft loft) of living area and costs $92,000. It is located in Wichita, Kansas. The White color used, large windows and natural wood make the house look natural, spacious, and bright. The size of the kitchen is good with a lot of storage space.
This is a tiny house on wheels, it can be moved easily to anywhere you want to go. Propane lines are installed and they lead into the home for your hot water and gas stove. For Winter and summer months, a Mini-Split AC or heating system is built to help during these seasons. Check here for more details.
Tiny House for sale in Kansas: Conclusion
I hope this post was beneficial and you have been able to see some beautiful tiny houses that you may like to buy or inspiration on how yours should be built.
If this article was helpful to you, your friends may have this same issue. Please share it with them on Social Media via the Social Media share buttons at the bottom of this post.
PAY ATTENTION: Read more about buying a Tiny Home or go back to the Homepage.