There are several Tiny House Laws In Arizona you need to know if you want to build or buy a tiny house in Arizona. Go through this article for more information.
Tiny homes are known for being beautiful and affordable. Deciding to live in a tiny house will help you cut costs and at the same time, live comfortably. Building or buying a tiny house in Arizona is very easy and accessible now.
Arizona is a southwestern state in the US. Its capital is Phoenix. it's nicknamed "The Grand Canyon State". And it is one of the best states to settle in, it has about 22 parks and monuments. This state is also blessed with natural resources.
ALSO READ: ‌California Tiny House Laws You Must Know Or Else
What do we have here?
hide
Tiny House Laws In Arizona
Arizona Tiny Home laws cover a lot of areas and we're going to dive into them in a bit:
What Arizona considers a Tiny House
Any house built in Arizona that is below 400 Square feet is classified as a tiny house. And it is meant to follow all building codes available. This also includes any house built with a foundation not less than 200 Square feet.
For a tiny house on wheels, they must be bigger than 160 Square feet. The structure can be made out of timber, shipping container, or using DIY tiny house equipment. All these and more materials are acceptable when building a tiny house but it must follow the building codes of Arizona.
RELATED: These Virginia Tiny House Laws Are Too Important To Ignore
Building Codes for permanent Tiny Houses in Arizona
The building codes for permanent tiny houses in Arizona are:
1. Decreased minimum room dimensions.
2. The ceiling height requirement decreased from 7' to 6'4".
3. Fewer electrical circuits are needed.
4. Less insulation is required.
5. Roof access. There should be a roof access window or skylight. This is not just to beautify the house but it is a requirement in case of an emergency escape.
It must also meet all of the requirements of a regular home, like ventilation, plumbing, smoke, carbon monoxide detectors, etc.
The state also looks into loft space. If your tiny house has a tiny loft, you have to ensure that its floor area should be at least 35 square feet, and at least 5 feet horizontally, and it should have a ceiling height of at least 3 feet.
Whether your permanent tiny house is built on a foundation or wheels, it will be checked and it must be in line with the building codes of the state. If it is not, some changes have to be effected.
Building Codes for Tiny House On Wheels in Arizona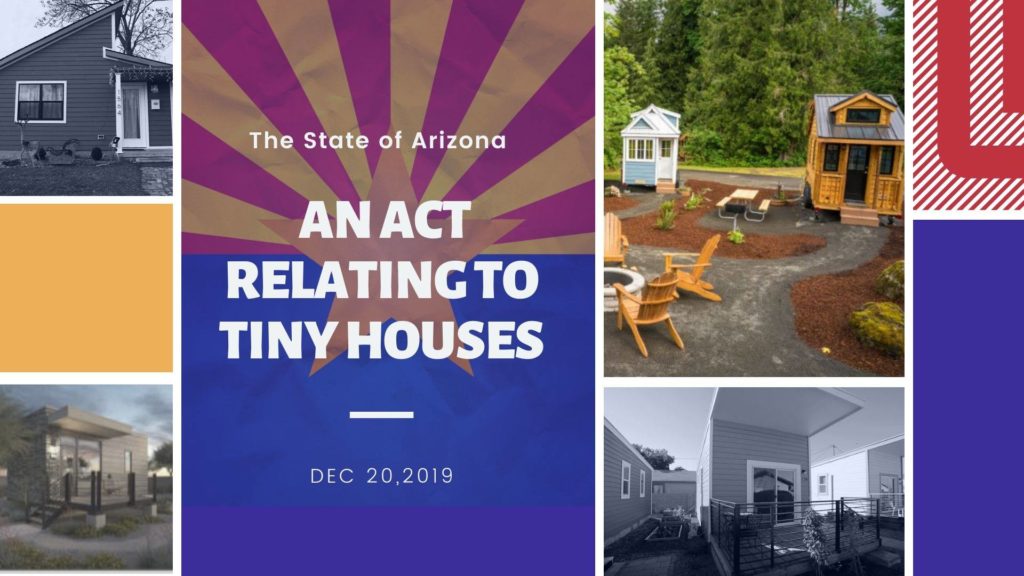 It is good to note that a tiny home on wheels is considered a mobile home, and not a permanent residence. Tiny houses on wheels follow a different set of building codes. You need to get an approved trailer and a building permit before you can start construction.
Your house would also be inspected after building. You won't get a Certificate of Occupancy or stay in your tiny house till you have gotten permanent land. It could be rented land for temporary use or permanent residential land.
The required size for your tiny house on wheels is about 160 Square feet in area. Arizona has an approved foundation site for tiny houses on wheels. And considers tiny houses on wheels as none permanent housing and licensed them as such.
Arizona cities that allow Tiny Homes
The following cities are tiny home friendly and closer to the cosmopolis.
Second
Lakeside
Tuscon
Phoenix
Coconino County and Pima County are the two main places in Arizona that are tiny home-friendly.
Zoning Codes For Tiny House In Arizona
A tiny home with a foundation has lots of options when it comes to zoning. Arizona allows tiny houses, unlike other states that restrict their use. Some zone types in Arizona include multifamily, detached single-family, and accessory dwelling units.
Tiny house communities are also coming up, so you are not the only one living in a tiny. Through the communities, you have access to mingle with our like-minded tiny homeowners. A tiny home on wheels can only be parked in the areas that allow mobile homes and RVs like the state park.
ALSO READ: Tiny House Communities In Georgia You'd Want To Live In
Conclusion
I hope this post was helpful and you have been able to learn more about tiny house laws in Arizona. If this article was helpful to you, please share it on Social Media. Let's spread the word!
PAY ATTENTION: Read more about building a Tiny Home or go back to the Homepage.